We have developed a number of applications for our outdoor AR backpack. Our latest and most important demonstration is Tinmith-Metro, a complete outdoor modelling system which allows a user to capture and create 3D geometry outdoors in real time, using glove based user interfaces.
tinmith-metro modelling
Quick links to videos: Modelling1, Modelling2, Modelling3, Walk-Thru1, Walk-Thru2
We have written a number of applications which use Tinmith technology in order to perform outdoor augmented reality tasks. The Tinmith-Metro application is our main application, demonstrating the capture and creation of 3D geometry outdoors in real time, leveraging the user's physical presence in the world.
The first example is what we call street furniture. The user can place down objects such as trees, tables, light posts, and other outdoor items. Using the gloves, the user can manipulate these objects into the correct position, and then scale and rotate them as well. This application is useful for performing landscape gardening type tasks, and allows designers to place down objects, and see what they look like in the environment before using a real shovel and purchasing real items.
The second example is what we call construction at a distance. Using this technique, the user can place down simple primitives (such as large planes) and use these to form the shapes of buildings, either existing already, or creating them from scratch. Once these primitives are in place, users can perform carving operations and texture mapping to increase the complexity of the model. This technique can be used to model structures such as buildings, automobiles, and trees.
By combining these operations with street furniture, it is possible to build complete worlds, either to model the existing world, or to create new worlds from scratch. For existing buildings, builders and architects can capture the geometry of existing buildings, and then make modifications to see what they will look like in the real world. For new buildings, designers can walk around outside creating objects, and then show them to potential customers before having to physically build any objects. The customer can then make changes and observe these in real time to build the perfect house and garden, and see these in the exact real world location.
action videos
We have captured numerous videos of the system in action outdoors. The video which is displayed on the HMD was also recorded to analogue tape, and then captured offline, edited, and compressed indoors. This allows others to see exactly what the user of the system sees when in use.

Tinmith 3D Modelling - May 2006
This demonstrates the Tinmith-Metro modelling system running on our 2006 backpack system

Tinmith 3D City Walk-Through - May 2006
This demonstrates the Tinmith system being used to preview the model of a small virtual town

Tinmith-Metro Videos October 2002
This is the highest quality video using the October 2002 version of Tinmith-evo5
| | |
| --- | --- |
| Tinmith Glove Based User Interface and Modelling | (MPEG 33.0 mb) |

Tinmith-Metro Videos May 2002
These are the some modelling videos using the May 2002 version of Tinmith-evo5
To play the following videos, you will need to install the DivX codec. Download it from the DivX site, or use my mirrored copy here. Also, the larger videos come in two quality levels - the small ones are highly compressed for viewers with slow modem connections.
Right click on the videos and save them to disk before viewing if you have any problems downloading them.

Tinmith-Metro Videos May 2001
These were captured using the 2001 version of Tinmith-evo5, along with a slow 3D graphics laptop and a low quality USB camera. At the time it was not possible to buy portable equipment which was fast enough for the task.


First Primitive Tinmith Video 1998
This video was filmed in 1998, using very primitive 486 hardware, and a small video camera mounted inside a HMD to capture footage. The display refresh rate was about 2 Hz due to problems with the hardware in the machine we were using. The software was a very simple navigation system indicating to users how to walk to a ground target. Things have changed a lot since then but it is interesting footage to compare quality against!
| | |
| --- | --- |
| Tinmith Is Born (Map in the Hat) | (4.1 mb) |
in the media
We have been covered in the media in a number of newspaper and magazine articles, and television appearances. If you would like to write an article about us, please contact Wayne Piekarski for further information.
| | |
| --- | --- |
| Bulletin Magazine 2002 | Gliddon, J. E-Bulletin: Head Trip, The Bulletin Magazine, Australia, July 30, 2002. |
| Today Tonight 2002 | Today Tonight, Channel 7, Adelaide, South Australia, December 18, 2002. |
| Slashdot Article 2002 | Slashdot - News For Nerds, Stuff That Matters, May 22, 2002. |

user performing 3D modelling task outdoors using wireless gloves and tinmith system 2006

example showing an AR user viewing various 3D virtual objects overlaid onto the physical world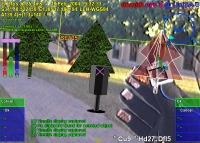 user manipulating a 3D virtual object using the gloves

user performing a real-time carving operation to create a model overlaid on top of a physical building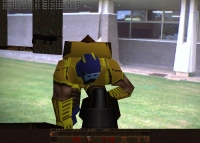 ARQuake game running outdoors, showing virtual monsters overlaid onto the physical world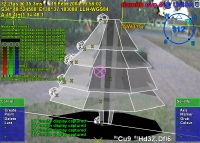 a tree created using the surface of revolution technique overlaid onto the physical world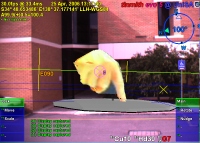 Demonstration of the HOG table, showing how an indoor user's hand can be captured and shown to an outdoor user with a wireless network

Rear-view of the current 2006 tinmith system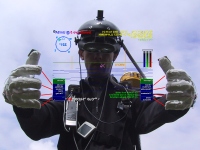 example showing how the user interface links up to the fingers on the user's gloves